Coordinating Your Comforter Set With Your Throw Pillows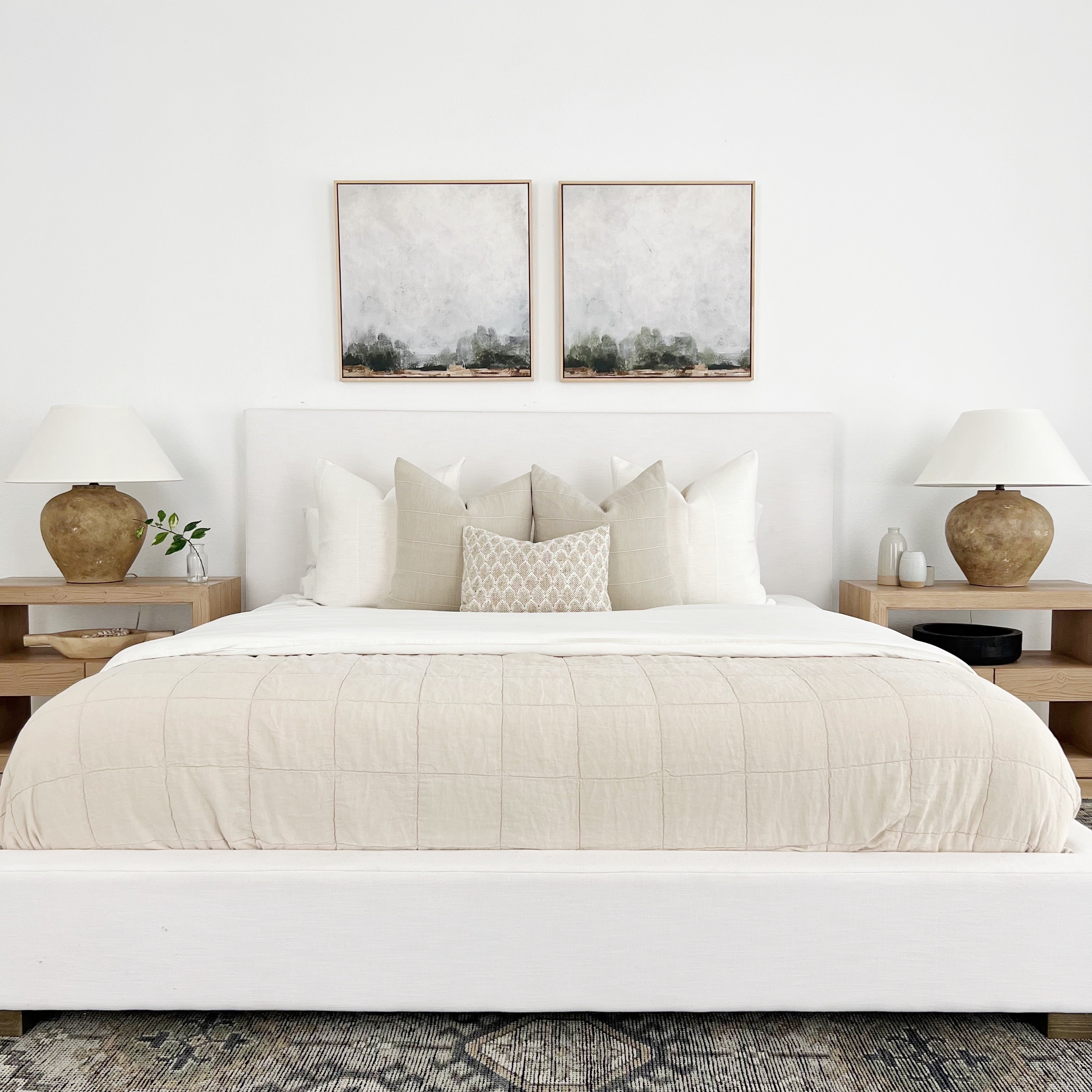 A comforter set and throw pillows are the go-to accessories to inject comfort and style into the bedroom. It is important to coordinate them to create a cozy and inviting bedroom. However, this task is more complex than it sounds. With many pillow options in various colors, patterns, and textures, it can take time to know where to begin. We will guide you to coordinate your comforter set with your throw pillows. Let's make your bedroom an oasis of tranquil relaxation and beauty!
Select the Ideal Comforter Set 
Unlike a duvet, a comforter usually doesn't come with a separate cover, so choose one that matches the aesthetics of your room. Choose a color scheme that aligns with your bedroom's overall decor. If the walls and furniture of the room predominantly feature neutral tones, you can select bold and colorful sets. It will help add flair to the room. But if your room is already vivid and colorful, opting for a subdued set can help balance the overall look. 
Take into account the pattern of your comforter set as well. You can choose solid color throw pillows to create a harmonious look if it has heavy details. Conversely, if your comforter has a more minimalistic or solid design, you can introduce throw pillows with lively patterns to infuse the space with vibrancy. 
Selecting the right texture also adds depth to your design. Incorporating it into your throw pillows and comforter can add a new dimension to your design. It enhances the tactile experience and adds a rich visual feel. 
Create a Color Palette for the Throw Pillows
Selecting the optimal comforter set is the start of creating an attractive bedroom design. Once you've done that, it's time to create a cohesive color palette for your throw pillows. Doing so can have a massive impact on the final aesthetic of your bedroom decor.
One of the main principles of interior design revolves around utilizing color to establish a consistent theme throughout the area. Your selection of throw cushions should be informed by the shades and hues featured on your comforter set. Carrying out this action not only boosts the room's overall look but also develops a tranquil environment that nurtures relaxation and contentment.
Achieving a harmonious blend of color in the room can be easily done by selecting throw pillows based on the predominant hues of your comforter. It will successfully bring together a cohesive color palette.
Pick out throw pillows in contrasting color combinations to achieve a vibrant atmosphere. For instance, if your comforter chiefly displays tints of blue, you can insert a dazzling and captivating aspect by deciding on throw pillows in dynamic shades such as coral or mustard yellow. This imaginative use of complementary colors incorporates visual allure and crafts a living space that mirrors your taste.
Neutral-toned throw pillows like white, gray, or beige can counterbalance a room filled with colorful decor. They contribute to serenity and harmony amidst strong patterns and bright hues.
The selection of throw pillows is more than a mere utility but rather a pivotal design choice that may drastically affect your bedroom's visual aspect and mood. Whether you decide to create a harmonizing effect with your comforter, invoke a contrasting look, or adopt an unassuming neutral perspective, your choices of throw pillows will contribute heavily to establishing a bedroom that is pleasing to the eye and comfortable. Such an arrangement provides balance, allowing the bed to become a standout feature of the room, not just a practical piece of furniture.
Don't Be Afraid to Mix and Match 
Experiment with different shapes and sizes when adorning your bed with decorative pillows. Mixing and matching different sizes, shapes, and textures of throw cushions can be an awesome way to bring texture and visual appeal to your bedroom look, from mundane to remarkable.
One of the best ways to give your bed more depth is to include a variety of pillow shapes and sizes. Standard pillows, king-sized pillows, and assorted sizes can all be used to bring dimension to your bed. By doing so, you will be able to create a lush and inviting appearance.
Explore pillows with assorted forms as they amplify the beauty of your bed. Square cushions give a timeless and harmonious outlook. Rectangular pillows can add versatility and are great for lumbar assist. Bolster pillows, with their unique cylindrical shape, lend an artistic flair.
Blending various textures is essential to attain a truly immersive and sensory experience. Satin and silk pillows have the potential to bring a sense of grandeur and luxury. Alternatively, velvet pillow covers evoke coziness and comfort. Assembling these textures diversifies the presentation and creates a great tactile feel for your bed.
Ensure that the hues of your throw cushions are compatible and blend with the bedroom's comforter or overall color plan. You wouldn't want a chaotic look. This way, your sleeping area will keep a unified and sophisticated look despite multiple cushions.
You can choose a symmetrical or asymmetrical arrangement depending on your style preference. Symmetrical design usually involves having two matching pillows of the same kind spaced evenly apart, which lends to a more orderly and balanced look. Asymmetrical design, meanwhile, can be achieved through the combination and variation of different pillows, allowing for a much more relaxed and creative arrangement. Ultimately, it is completely up to you which of the two design choices you adopt, but both can be stunning in their own right.
Pay Attention while Layering and Arranging
Arranging your comforter set and throw pillows on your bed is the final step in creating a stylish and inviting bedroom. The organization of these details can affect your sleeping area's entire look and ambiance. Below are a few pointers to assist you in formulating a proportional and visually attractive display. Remember that these are recommendations; you should adapt them to fit your tastes.
Begin with the bedspread. It serves as the bottom layer of your bed. Spread it out neatly to cover the mattress and hang it evenly on either end. Use your hands to flatten creases or wrinkles for a neat and polished first layer.
Arrange large cushions along the headboard or wall to create a rich, soothing aesthetic. These pillows can support you when sitting in bed and contribute an elegant, eye-catching display for the other cushions.
Next, layer your standard and king-sized pillows in front of the large pillows. Arrange them in descending order of size, with the largest pillows at the back and the smaller ones in front. This layering technique adds depth and dimension to your bed while providing a comfortable and functional sleeping arrangement.
At last, it's time to add life and character to your bed with decorative throw pillows. These cushions can come in different sizes, forms, and textures, allowing you to arrange them as desired. Add variety and interest to your sleep space by arranging the designer pillows in front of the traditional and king-sized ones. Create interesting designs, like a pyramidal or a diagonal structure, to give your bed an upgraded look.
When organizing the pillows in your bedroom, strive for equilibrium and symmetry to build an aesthetic of balance. To get a symmetrical look, allocate an identical amount of pillows to both sides of the bed. It leads to a smart and timeless look. However, asymmetrical arrangements can also be appealing and can add a touch of eclectic charm. Consider your preferences and the overall aesthetic you aim to produce when choosing it. Ultimately, your bedding should reflect you and your individual preferences. 
Additional Things to Remember
Keep the throw pillows well-maintained. Follow the manufacturer's instructions to clean them. A well-maintained pillow adds beauty to the space and lasts a long time. 
Select the correct inserts for your throw pillows. You can choose from options such as down, memory foam, or alternative down, depending on your preference. Alternative down is a great choice that mimics feather down. These inserts are the perfect choice to sink in after a long and tiring day. Memory foam inserts are denser, and they provide you with firm support. Select inserts slightly larger than the pillow cover. You can choose inserts 2 inches larger than your pillow covers to give it a fuller look. 
Change your throw pillows according to the season. It will keep your bedroom decor looking fresh and updated around the year. You can also aim for a coordinated bedside decor by adding wool throws, matching lamps, candles, wall art, and picture frames to complete the look. 
You can elevate your bedroom's decor by coordinating your comforter set with your throw pillows. No matter what style you prefer, whether it is a classic, contemporary, or eclectic look you desire, following these steps will help you achieve a harmonious and inviting look that truly reflects your taste. We have curated a selection of
throw pillow sets
to make getting the right look easier. So, experiment with different combinations until you find the perfect coordination that makes your bedroom truly yours.