How to Properly Arrange Pillows on Your Furniture - Complete Guide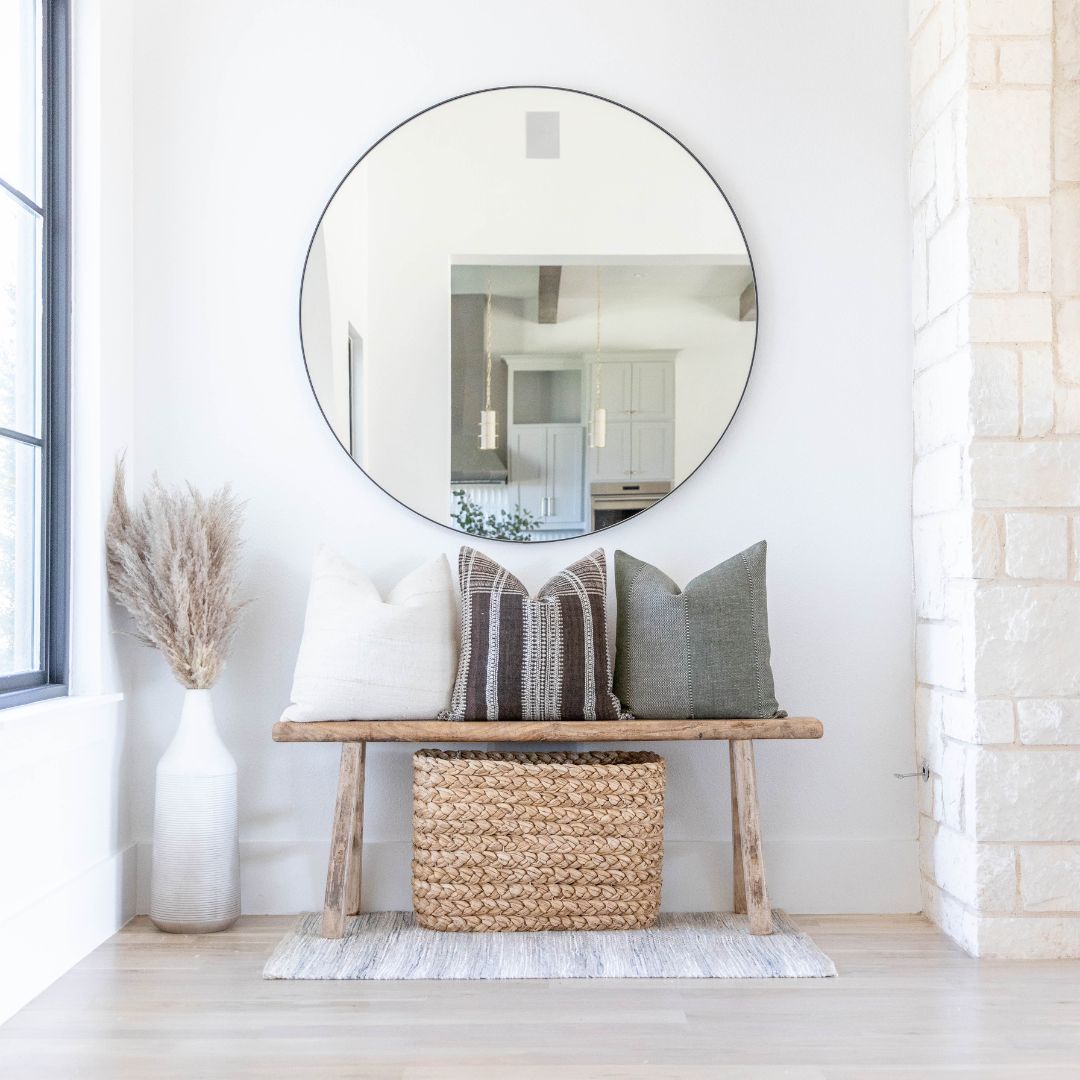 Pillows, those delightful, fluffy, and cozy little objects, are essential decor items for your home. It can be difficult to appropriately arrange cushions on your furniture as there are countless variations. Whether it's a couch, a bed, or a favorite reading chair, arranging pillows can transform your house into a warm and inviting space. Here is a complete guide on how to arrange pillows on your furniture.
Know Your Pillows
Like picking the perfect toppings for your favorite pizza, choosing the right pillows for decorating is about creating that irresistible combination. They come in different shapes and sizes, colors, and textures. You can play with these variables to showcase your personality and vibe.
Matter of Shape and Size 
First things first, you must know the different types of pillows. Big square pillows are a big deal in the pillow world. They are the trusty all-rounder, versatile, and support your back and head. They are 'players of the season' of pillow arranging.
Rectangular pillows are classy cousins of square pillows but elongated and classic. They add a touch of elegance to your setup and are great for providing support, too.  
Pillow sizes range from small to large. The lumbar pillows of 14x20 inches are decorative charms. Medium-sized pillows, 18x18 inches, are the everyday heroes that fit the standard sleeping pillow. And large ones, 22x24 inches, make a bold statement. These sizes add depth and character to your arrangement when you mix and match them with each other.
Now that we have covered various shapes and sizes let's talk about picking the one for your furniture. Choosing the right shape and size of pillows strikes the perfect balance of functionality and aesthetics. They enhance your furniture without drawing much attention, like the supporting cast in a movie.
If your pillow is too big, it's like trying to fit a hippo in a mini cart that does not work. And if it's too small, it's like not having enough water when you are thirsty; that is just not satisfying. Big, small, square, or rectangular, matching pillows to your furniture's proportions will put you on the right track.
Color It Cozy
Colors create a mood like the background music in a  movie. They can make a room feel lively, calming, or simply joyful. So, pick colors that make you happy and match your room's vibe.
Opting for the wrong color is like wearing socks with sandals, which is not a good fashion choice. If you want a calm and peaceful vibe, go for soft, gentle colors like blues and pastels. Want a lively and energetic atmosphere? Bold shades like reds and yellows are your go-to.
But here's the secret sauce: pick colors complimenting your room's color scheme. If your room has a lot going on, solid-colored pillows are the options to look out for. You can also play with mixing patterns and shades. Sometimes, it's all about striking a balance. 
Texture Magic
Texture, the unsung hero, spice up your game of pillow decorating. They add depth, interest, and that extra "yum" factor to your space. Your safe bet is a combination of a fluffy, soft pillow next to a sleek, silky one.
You can opt for a luxurious, fuzzy hug with textures like ones with vintage handcrafted textiles. These woolen textile textures can add luxury to your setup, like a sprinkle of stardust on your furniture. Mixing textures adds layers to your decor, keeping things intriguing and making your space more welcoming.
Pillow Arrangements on Different Furniture
While you might think pillows are just for beds and sofas, there's a whole universe of furniture out there waiting to be snuggled up with fluffy pillows. Let's move on to arranging pillows for different types of furniture.
The Couch or Sofa: Where You Want Coziness
Let's begin with the beloved couch or sofa, the throne of relaxation. It is where you binge-watch your favorite shows, cuddle up with a book, or take blissful afternoon naps. So, how do you arrange pillows to make your couch feel like a warm, welcoming oasis?
Start with two square pillows as the corner anchors. Place one in each corner of your sofa. These are like loyal guards, ready to support you whenever needed.
Place a rectangular pillow as the centerpiece. It holds everything together with style as a captain of a ship. For the front and center, opt for any smaller pillows and layer two or more in front of the larger ones. It's like assembling your loyal crew, ready for action.
Bring in the large pillows for that edgy elegance if you feel all fancy. These can rest on the edges, adding a touch of sophistication. You can think of them as the knights guarding your couch.
The Cozy Bed: Where You Deam
Bed loves pillows! It's where you rest your weary head and body after a long day. Arranging pillows in a random order would not do justice to it. How do you make it look straight out of a cozy fairy tale?
First up, square pillows are great for the pillow parade. You can go with two or three on each side, depending on your preference. With these loyal guards, you can have sweet dreams for sure.
In the middle of a royal anchor, place a rectangular pillow. This one's the leader of the pack that adds a touch of class to your setup. Then sprinkle some smaller pillows in front of the big ones. These are like the Merryman, adding playful charm to your royal court.
If you have a headboard, pick out a couple of fluffy large pillows to use as a headboard hugger. They will be the keepers of your dreams. Your bed is now a regal throne, and you're the ruler of your dreamland.
The Accent Chairs: Where Your Style Meets Comfort
Accent chairs, smaller than couches or beds, are often fashionable outcasts in the furniture market. They have a strong impact when it comes to style. So, how can you make them even more chic?
One square pillow can stand out and compliment the chair. A rectangular pillow can work as a subtle companion. It supports the square pillow that brings an elegant touch to your space.
If you're all about comfort, bring in a smaller, plump pillow for extra coziness. These pillows will convert your accent chair into a cozy retreat where you can comfortably read a book or sip tea in style. It's like your own little 'land of comfort.'
The Dining Chairs: Where You Eat And Chat
They serve the purpose of the feast and chat with your family and friends during dinner. So, how do you make them comfier without sacrificing style?
Begin with a square or rectangular pillow on the chair as a seat saver. It is like the comfy cushion that'll keep you cozy during those long dinner conversations.
If your dining chairs have a backrest, consider adding a smaller pillow for the back support. It's like a friendly pat on the back.
With these pillows, your dining chairs become a cozy gathering place to enjoy good food and great company. It's like having a mini banquet every day.
The Outdoor Furniture: Where You Are With Nature
Outdoor furniture is where you soak up the sun, enjoy a breeze, or stargaze at night. But how do you make it even cozier?
If you have outdoor lounge chairs, a rectangular pillow on each chair can turn your outdoor space into a relaxation area. For dining chairs or benches, square pillows can make your outdoor meals feel like picnics in the park. With these pillows, your outdoor furniture extends your cozy indoor space, bringing the comfort of your home into the great outdoors.
Why Arrange Pillows on Your Furniture?
Pillow arrangement is more like icing on the cake for your furniture. It is not simply about fuffing and plopping them; there is a method to the process, and it's essential.
When you walk into a room and see jumbled pillows, you won't feel so cozy, right? It stands to reason that a room with properly arranged pillows is like a warm hug for your eyes and your soul.
Firstly, it all comes to comfort. Whether relaxing on the couch or taking a quick nap in bed, pillows support your back and head. A well-arranged pillow gang can give you a luxurious experience, cradling you comfortably.
Also, it's not all just about function but about fashion, too. Pillows, like jewelry, add a dash of style and personalize your furniture. The right pillow arrangement can glam up your space as much as a fresh coat of paint. It's like dressing up your furniture ready for a party.
They can brighten up the whole vibe of the room and make your space feel warm and inviting. Pillows in bright colors for a party and soft tones for relaxation are mood changers that make your pillows mood magicians.
You can experiment with different variables until you find what feels good for you and your space. Whether curling up with a book, entertaining guests, or simply lounging around, the right arrangement can create a welcoming and comfy atmosphere.
Are you looking for designer pillows for your furniture? Here at One Affirmation, it's all about fabulous designer pillows and decor that'll make your home feel like a cozy paradise. When you
shop with us
, you're making a stylish statement with a heart! We aim to make homes beautiful and empower global artisans with fair deals.