Benefits of the Amy Pillow Set II | 6 Pillow Cover
This pillow set is a blessing if you have hit a dead end with your throw pillow decor ideas. We have specially curated this collection in a cohesive color palette, rich texture, and various sizes. Here are some of the key benefits of this amazing pillow set.
Lightweight
The lightweight pillow covers add a breezy and light aura to your decor. They are also very easy to move around and arrange to add a fresh look to your living area.
Comfortable Feel
This pillow set is constructed using natural fibers that are smooth and hypoallergenic. The pillows offer a great tactile experience and are perfect for lounging and relaxation.
Adds Depth and Texture
This pillow set comes in various sizes and materials. The right amalgamation of square and rectangular pillows adds depth to your couch. Linen and cotton fibers give it a nice texture that is pleasant to touch.
Versatile Decorative Item
It can be used in different decor themes. It is a great fit whether you are sprucing up your couch or looking to add comfort to your bedroom.
Timeless and Classic Design
This pillow cover set looks good in both traditional and modern settings. The choice of vivid patterns used in design and its timeless color palette make this set a great option for your next decor idea.
Lake House LOVE
These pillow covers are absolute perfection!!! We love One Affirmation and will continue to purchase for our clients time and time again. :))
Frequently Asked Questions
This pillow cover set uses high-quality natural fibers. The cotton fibers used in this pillow cover are lightweight and breathable. They add a breezy touch to your decor. The linen fiber pillows are a great choice due to their great texture and hypoallergenic properties. Combined, they bring unparalleled comfort and sophistication to your decor.
It is not an outdoor pillow set but can be used outdoors occasionally. It lacks any form of weather protection. Using the covers outdoors for a long duration can shorten their lifespan and damage the inserts. However, you can use it outside in a suitable environment with caution. Protect it from exposure to elements, and remember to bring it inside once you are done.
Yes, it does! The hidden zipper enclosure gives these pillows a seamless and slick appearance. It also prevents the zipper from snagging in your clothes or irritating your skin. It also ensures that the zipper is protected in its enclosure, which makes it last longer. This nifty touch makes this pillow a comfortable addition to your room.
Yes, it is. The pillow covers are constructed with high-quality materials such as linen and cotton. The fibers are naturally fade-resistant. They are constructed with great craftsmanship and are made to retain their colors with moderate use. Take care to protect it from direct sunlight and moisture. Also, please follow the care instructions to ensure longevity.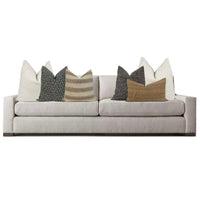 Amy Pillow Set II | 6 Pillow Cover
$ 599.00
Lake House LOVE
These pillow covers are absolute perfection!!! We love One Affirmation and will continue to purchase for our clients time and time again. :))