Benefits of the Sydney Stripe Pillow Cover | Black + Cream
Diablo Designer Pillow Cover in Blue boasts a visually appealing design and practical advantages like easy maintenance, comfort, and adaptability. Its benefits are listed below:
Suitable for Multiple Seasons
With its versatile design and color, the Diablo Designer Pillow Cover is perfect for various seasons. It complements warm and cool color palettes, allowing you to update your decor throughout the year effortlessly.
Easy to Clean
The pillow cover is designed for convenience, featuring easy cleaning options. It ensures that you can keep it looking fresh and vibrant with minimal effort, maintaining its appeal for a long time.
Non-itchy
The Diablo Designer Pillow Cover is designed with comfort in mind, offering a non-itchy and soft texture. You can enjoy its aesthetic appeal without discomfort, making it ideal for relaxation and lounging.
High-Quality Material
This pillow cover is crafted from high-quality materials for durability and longevity. Its premium construction guarantees it can withstand regular use without losing its original charm.
Versatile Decorative Item
It is a versatile decorative item that can enhance the ambiance of various spaces. It effortlessly adds a stylish touch to any room, whether used on sofas, chairs, beds, or floor cushions.
Frequently Asked Questions
It is made of a combination of materials. The front side is crafted from 60% Cotton and 40% Jute in navy blue. Meanwhile, the reverse side is made from a flax linen blend of 80% Linen and 20% Cotton. This blend of materials offers a stylish and durable pillow cover, adding sophistication to any home decor.
Yes, the Diablo Designer Pillow Cover features a hidden zipper closure, adding convenience. This thoughtful design allows for effortless insertion and removal of pillows, making cleaning and maintenance a breeze. The hidden zipper provides a seamless and polished look and plays a major role in enhancing the overall aesthetic appeal of the pillow cover.
Yes, the Diablo Designer Pillow Cover is hypoallergenic. It is suitable for individuals with allergies or sensitivities. Additionally, its materials are gentle and safe for sensitive skin and provide a comfortable and irritation-free experience. You can rest assured that this pillow cover offers style and comfort without compromising skin-friendliness.
The Diablo Designer Pillow Cover is versatile and can be used in modern and traditional interior designs. Its timeless and classic design and elegant navy blue and natural color combination complements various decor styles. Whether you have a modern, contemporary setup or a more traditional, classic interior, this pillow cover will effortlessly blend in and enhance the overall aesthetic appeal of your living space.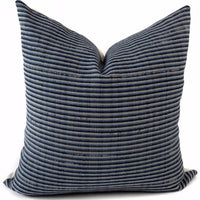 Diablo Designer Pillow Cover | Blue
- 14x20
$ 99.00
Shop by Color
You can have a lot of fun shopping and color matching this category of pillows.