Benefits of the Ikara Pillow Cover
Hand-woven on a traditional loom and made from all-natural cotton, the Ikara Pillow Cover gives a rustic vibe. Its loose, natural weave perfectly complements a modern pillow set.
Pillow Protection
The Ikara Pillow Cover is made of natural, hardy cotton and will protect your pillow inserts from dirt, sweat, and spills for a long time.
Extra Comfort
All-natural fibers in this pillow cover lend extra comfort to your rest, bedroom, or sofa. Its loose weave is especially pleasing to the touch.
Easy Cleaning
Cleaning the Ikara Pillow Cover is easy and convenient. Dry cleaning is perfectly adequate to keep this product fresh and clean.
Designer Style
Its modern design is understated but eye-catching. It features a pleasing off-white color with a pattern achieved naturally through the hand-crafted weave. The designer style is versatile and, at best, in boho-styled decor.
Durability
The 100% pure cotton used in the Ikara Pillow Cover is fully resistant to pilling and shrinking. You will get a hardy pillow product ready to face the wear and tear of the years.
Frequently Asking Question's
The Ikara Pillow Cover is made from pure, hand-woven cotton with a backside composed of a natural linen and cotton blend. Its simple and elegant design is achieved completely by the authentic materials used in its construction. The hard fabrics used in this pillow cover will make it a steady companion in your home decor for years.
This pillow case lasts at least five years and is durable for years. Made of pure ivory cotton at the front and a natural cotton/linen blend at the back, the Ikara Pillow Cover is built to last long without any issues.
Yes, the Ikara Pillow Cover is a good choice for outdoor cushions. Unlike many other materials, the pure cotton used in the Ikara Pillow Cover is resistant to weather damage, such as from direct sunlight. With its all-natural build, it is guaranteed to maintain its look and feel even when used in outdoor settings.
We recommend avoiding putting this pillow cover in the washer to have the best chance of maintaining its natural look and feel. While it won't face any serious damage, it might lose its natural softness. You can dry-clean the Ikara Pillow Cover to give it the best chances at a long lifetime.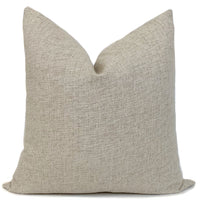 Ikara Pillow Cover
- 14x20
$ 69.00
Shop by Color
You can have a lot of fun shopping and color matching this category of pillows.