Benefits of the Indian Wool Pillow Cover
Spice up your decor with the Indian Wool pillow cover! The collection of different art styles on this cover explores the richness of Indian culture and legacy. This pillow cover provides a graceful touch to your home ambiance. The fabric design will melt into any style of your decor, whether minimalistic, traditional, or modern. Here are some of its benefits.
Amazing Quality
The fabric on this pillow cover is just amazing! It has premium wool on the front, carefully stitched with a natural linen-cotton blend on the back. It provides the pillow cover with soft-to-touch and durable features. The smoothness of this pillow cover will give your skin a warm and cozy feeling. It is an eye candy and a comfortable beauty.
Great Durability
The use of high-quality wool and the amalgamation of linen and cotton make this pillow cover tough against tear and abrasion. The tightly woven wool and linen cotton enhance the durability of this cover. So, you do not have to worry about spills and accidents; it will not disintegrate over time.
Exquisite Designs
The artistic hand-printed designs blend with any decor style to satisfy your home-interior needs. The brown in the pillow brings warmth, whereas the cream adds elegance to the pillow cover. The perfect unity of serene colors creates a cozy and tranquil atmosphere. The expressive designs will make this pillow cover the highlight of your space.
Amazing Attention to Detail
The lavishness of Indian art is properly expressed in this pillow cover by weaving vibrant and artistic designs to this pillow cover. This cover has a flawless composition, an art, with no unintended weave in design or unattended strip of fabric. The caliber of its assembly makes this pillow cover extremely appealing.
Unique Piece
The aesthetic hand-printed designs are exclusive to a pillow cover. The one-of-a-kind designs will help you give a personalized touch to your home. Whatever your home design style, from traditional to modern, this pillow cover will fit seamlessly. Unlike mass-produced pillow covers, this is unique to your home.
Easy Cleaning
The premium wool put-together with naturally durable linen-cotton marriage gives you the freedom to clean. With this fabric, the worries of color fastness and fiber disintegration are of the past. You can spot-clean the pillow cover by exclusively targeting the stained area or opt for more professional cleansing with dry cleaning.
Frequently Asked Questions
This pillow cover is an homage to Indian arts and crafts. The multicultural Indian vibrancy can be seen in the design of this pillow cover. A 100% woolen fabric is meticulously stitched with a blend of linen-cotton cloth to provide a pillow cover that is smooth, soft, and durable. The brown and cream in the pillow cover seamlessly fit into any decor to add warmth and aestheticism.
The Indian Wool Pillow Cover comprises the careful stitching of premium wool fiber on the front with a linen-cotton blend on the back. The creative, artistic, hand-printed Indian designs pop out to give this cover stunning aesthetics and reflect the rich culture of Indian designs to fit into your home decor seamlessly.
It is suitable for indoor use. A prolonged exposure to sun, wind, and humidity may cause the pillow cover to fade its color and decay its fabric. These factors of the outside environment may decrease the lifespan of an otherwise durable pillow cover. Thus, we recommend you use it for your interior furniture for long-term use.
The expressive hand-printed designs in this pillow cover are inspired by rich Indian cultural heritage. The use of different color schemes, traditional Indian artistic choices, and appealing patterns amalgamate to give a unique design that enhances the aesthetic of your bedding and provides you with a cozy ambiance.
Absolutely! This cover is put together to give a personalized touch to your interior design. The mix-match of other pillowcases with this one will bring a vibrant yet exclusive design to your decor. It is assembled to please your minimalistic, traditional, or modern decor and add grace to your contemporary design style.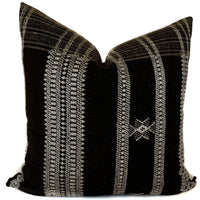 Indian Wool Pillow Cover | Brown + Cream
- 14x20
$ 69.00
Shop by Color
You can have a lot of fun shopping and color matching this category of pillows.