Benefits of the Maricio Floral Pillow Cover
The Maricio Floral pillow cover perfectly blends vibrant floral designs with the relaxing blue and warm rust beige to provide a nurturing aesthetic to your decor. The versatile floral patterns adapt seamlessly to any contemporary decor. This pillow cover gives you the freedom to style your decor. Besides being appealing, here are other benefits of this pillow cover.
Durability
The linen is widely known for being inherently robust. This pillow capitalizes on that reputation by incorporating 100% linen on the front and a linen-cotton mix at the back. This combination guarantees the pillow cover's strength and resilience. It makes the cover highly damage-resistant and ideal for daily use. Long-term use is guaranteed with this pillow cover.
Enhanced aesthetics
The use of linen at the front and the linen-cotton blend at the back promote the aesthetics of this cover. The soft-to-touch smooth texture and visual charm of linen fabric elevate the printed design of the pillow cover. Hence, perfect fabric and chic designs make it a stylish addition to any home decor.
Investment in quality
Opting for this pillow cover is an investment in quality. The first-class ink to print the vibrant floral designs on the durable linen fiber assures the product's longevity. By choosing this pillow cover, you are compromising neither for aesthetics nor strength. So, this pillow cover is an excellent investment in quality.
Unique designs
This pillow cover offers designs to add a personal touch to your home decor. The carefully crafted designs express your style and taste. Combining all these features will make your personal space a serene garden. With these exclusive designs, you make a statement with your personalized and distinctive decor.
Quality materials
This pillow cover is made from 100% linen at the front and a linen-cotton mix at the back to reinforce the fabric for elite material excellence. The use of natural fibers guarantees not only durability but also a luxurious feel and appearance. Its premium materials guarantee the cover is soft, comfortable, and long-lasting.
Premium Quality
This cover uses excellent ink that prevents colorfastness and provides resistance to fading. You can rest assured that this pillow cover will retain its captivating colors for an extended period, elevating the aesthetics of your living space. The choice of fabric in the pillow allows it to be durable, breathable, and luxurious.
Beautiful fabric and construction
Aptly described, beautiful hues of grey blue, rusty brown and beige. Plain ivory linen back.
Frequently Asked Questions
No, there aren't. The unique floral design of this pillow cover will give you decor freedom and help you express your individuality. Its captivating blend of soothing blues, warm rusts, and inviting beige tones offers versatility. This cover seamlessly complements diverse decor styles and allows you to curate a space that truly reflects your unique personality.
Yes, this pillow cover comes in multiple sizes that can be used with 14x20, 20x20, 22x22, and 24x24 inserts. You can purchase Alternative Down inserts from One Affirmation. Multiple sizes can enhance the visual appeal and add to optimal comfort. They will help you style your decor more coordinated and coherently.
You can care for and maintain it with spot or dry cleaning periodically. Due to the utilization of highly durable linen fiber and premium ink to build this product, maintaining this pillow cover is a breeze. It is a robust material for daily use, and floral prints will not lose quality by frequent cleaning.
Certainly! With abundant color schemes and excellent design patterns, you can opt for any pillow cover that will satisfy your specific needs. Whether you are looking for a modern, minimalist design, a cozy and rustic theme, or a vibrant pattern, we cater to your unique and personalized decor.
This pillow cover is 100% linen on the front, carefully and precisely stitched with an amalgamation of linen and cotton on the back. The linen provides a smooth, comfortable, and cozy touch, and the blend of linen-cotton enhances the smoothness and resilience of the fabric. This fabric combination assures both durability and comfort. It provides a pleasant and luxurious feel to the touch.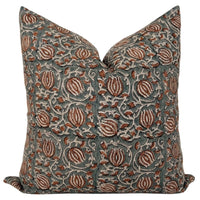 Maricio Floral Pillow Cover
- 14x20
$ 69.00
Beautiful fabric and construction
Aptly described, beautiful hues of grey blue, rusty brown and beige. Plain ivory linen back.
Shop by Color
You can have a lot of fun shopping and color matching this category of pillows.