Hypoallergenic Pillow
The faux dawn fiber used in this pillow is free of allergens like dust mites and natural proteins. You will get all the benefits of real Down with none of the downsides, making it the best option for people with allergies.
Affordable
The ultra-soft microfibers used in this pillow insert are as soft and lofty as real down at a much more affordable price. You can save a few bucks without skimping out on the quality.
Breathable
This product is much more breathable than traditional down inserts. We have chosen a premium dry polyester that holds loft much better without needing too much maintenance.
Shape Retention
Alternative down inserts are designed to maintain their shape over time, ensuring your pillows stay full and evenly distributed.
Supportive
Our high-quality polyester fiber gives you all the comfort of real down while lasting much longer. It will retain its shape and loft for a long time without much maintenance, giving you long-term comfort.
Frequently Asked Questions
Alternative down pillow inserts are typically made of soft polyester that seeks to mimic the qualities of traditional down feathers. They offer similar quality and experience for a more affordable price. Alternative down pillows are heavier than real down pillows and offer slightly less insulation. But they are also hypoallergenic, easier to maintain, and less likely to clump.
Yes, alternative down pillow inserts are made from synthetic fibers, making them hypoallergenic. Some people can be allergic to dust mites and the natural proteins of real down feathers. Since alternative down pillows have none of these materials, they are a much safer option for people with sensitive skin.
Yes, alternative down pillow inserts are machine washable. They are much more agreeable to machine washes than traditional down inserts. Real down is much more delicate than polyester fibers and requires extra care while washing. Alternative down pillow inserts are much harder and can retain their soft quality even with machine washes.
Alternative down inserts can last anywhere between 1-2 years. However, this depends on different factors such as the quality of the material, usage habits, and care and maintenance. With periodic washes and fluffing, you can expect your alternative down pillow to retain its shape and quality for longer.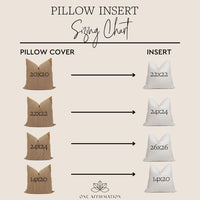 Pillow Inserts - Alternative Down
- 12x24
$ 36.00